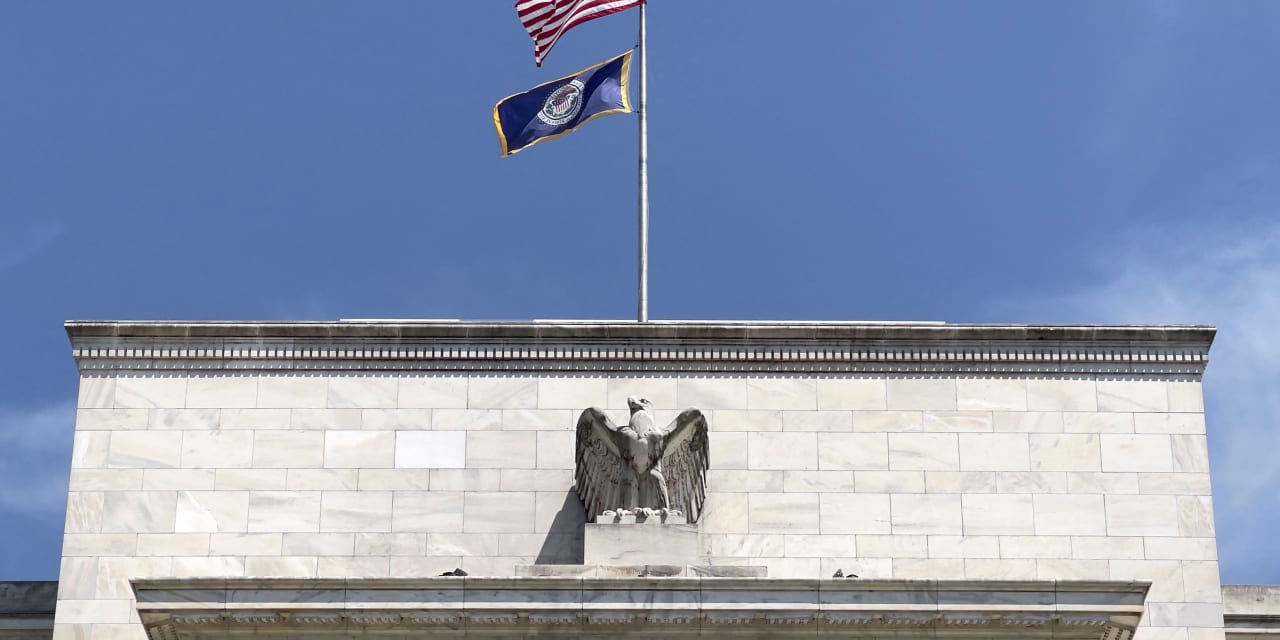 U.S. stock indexes closed out their best day in two months Wednesday, after the Federal Reserve Chairman Jerome Powell signaled the central bank may announce a pullback of its bond purchases in November and could start to raise interest rates in 2022, with both moves largely expected by market participants.
Investor concerns about financial contagion from a potential default by China's giant property company Evergrande have somewhat abated, but investors are also watching developments in the U.S. Congress on raising the federal debt ceiling.
How did stock indexes do?
The Dow Jones Industrial Average
DJIA,
+1.09%
climbed 338.48 points, or 1%, closing at 34,258.32.
The S&P 500 index
SPX,
+0.75%
added 41.45 points, or 1%, ending at 4,395.64.
The Nasdaq Composite Index
COMP,
+0.50%
advanced 150.45 points, or 1%, finishing at 14,896.85.
On Tuesday, the Dow fell 51 points, or 0.15%, to 33,920, the S&P 500 declined 0.08% to 4,354, and the Nasdaq Composite gained 32 points, or 0.22%, to 14,746. The Dow and S&P 500 marked a fourth straight day of losses, which was the worst stretch for the S&P 500 since mid-May.
What drove the market?
Wall Street cheered Wednesday's Federal Reserve decision to keep its massive bond-buying program and ultralow interest-rate regime in full swing to support financial markets and the economy through the pandemic — for now.
Stocks trimmed some of their gains after Fed Chairman Powell said plans to taper the central bank's bond buying program could be announced in November after the Fed's next policy-setting meeting. Fed officials also penciled in an interest-rate increase in 2022.
The Dow and S&P 500 still booked their largest daily percent gains since late July, while the Nasdaq scored its best session advance in about a month, according to Dow Jones Market Data.
Powell said there remains "a range of views" among Fed officials about the state of the U.S. economic rebound, while warning that higher interest rates next year aren't set in stone, in an afternoon news conference.
"It looks like we are on track for a November tapering announcement," said Kathy Jones, chief fixed-income strategist at Charles Schwab, in a phone interview. But she also explained that the "dot plots" now implying four rate increases, or a 1% increase, through the end of 2023 would be a "pretty significant rate of increases."
"Dots are just dots. They are going to move," she said. "It's not a done deal, or a forecast, just an estimate," Jones said.
A number of analysts had pegged November or December as a likely time frame for an official Fed announcement for tapering its monthly purchases of $120 billion in Treasurys and mortgage-backed securities, with an eye toward concluding those purchases at in the middle of next year.
The longer-term outlook for policy interest rates, which currently stand in a range between 0% and 0.25%, now shows benchmark interest rates potentially climbing as high as 1.8% by the end of 2024.
Read: Fed could fracture in 2022 over when to raise interest rates, economist says
"We've been through a move in the dot plots already," said Giorgio Caputo, head of JO Hambro Capital Management's multi-asset team, adding that any fits of weakness in stocks this year have been extremely short lived.
"The little dips, the blips, they get bought," Caputo said, in a phone interview. "The thing is, market liquidity does evaporate when volatility spikes."
"Even through we seem to have processed this latest wobble, or are in the process of processing, the risk continues to remain that one of these days we'll have a more significant air pocket," he said.
For markets, worries about China's indebted property company Evergrande subsided on Wednesday.
Frankfurt-listed shares of China Evergrande surged 50% after a unit of the company, Hengda Real Estate Group, pledged to make an on-time interest payment on Thursday. Separately, China's central bank reportedly injected liquidity as markets reopened after a two-day holiday and talk of a restructure of Evergrande has eased some of the initial panic on Wall Street about potential financial contagion akin to what occurred in 2008 when U.S. investment bank Lehman Brothers failed.
However, investors remain wary as Evergrande still faces interest payments on bonds in coming days.
"While the markets are rebounding, we think its to soon to think the Evergrande situation will blow over without causing more near- term market pain," said Peter Cardillo, chief market economist at Spartan Capital Securities.
The U.S. debt ceiling issue also was in focus Wednesday, after a group of former U.S. Treasury secretaries, including Henry Paulson, Timothy Geithner and Robert Rubin, sent a letter to Congressional leadership calling for Washington to avoid an "unprecedented default" that could "serious economic and national security harm."
The House voted late Tuesday to keep funding the government and avoid a shutdown, but faced opposition in the Senate given the Republican party's opposition to raising the debt ceiling.
See: Washington is now the stock-market 'wild card' as debt-limit showdown looms
The New York Federal Reserve Bank on Wednesday also announced it would double the amount each counterparty can park overnight a popular Fed repo facility to $160 billion a day, effective Thursday.
In U.S. economic news, investors parsed an August update on existing home sales, which retreated as inventory and prices remained major concerns for prospective buyers. Existing-home sales dropped 2% to a seasonally-adjusted, annual rate of 5.88 million in August, the National Association of Realtors said. Compared with August 2020, home sales were down 1.5%.
Which companies were in focus?
Robinhood Markets Inc. 
HOOD,
+0.24%
 shares closed 10.9% higher Wednesday after the company said it was rolling out a new feature that will allow users to use a crypto wallet and make cryptocurrency transfers on its app.
Dave & Buster's Inc.
PLAY,
-3.14%
shares jumped 6.9% Wednesday after the company announced that Chief Executive Brian Jenkins would retire next week—a move that Truist analysts say transitions the company into a new phase of its COVID recovery.
FedEx
FDX,
+0.73%
shares dropped 9.1% after the shipping and logistics company lowered its outlook for the year, citing a tight labor market and higher expenses.
DraftKings
DKNG,
-2.59%
shares lost 0.3% after U.K.-listed betting group Entain
ENT,
+1.85%
said it was considering a new, improved takeover from the digital sports betting and entertainment group.
Stitch Fix Inc.
SFIX,
-2.55%
shares advanced 15.7% after the clothing-subscription company said it gained more clients and revenue rose 29% in the fourth quarter, driving more than $2 billion in annual sales for the first time.
How did other assets trade?
The yield on the 10-year Treasury note
TMUBMUSD10Y,
1.574%
was almost 1 basis point lower around 1.332%, after the Fed decision. Yields and debt prices move in opposite directions.
The ICE U.S. Dollar Index
DXY,
-0.00%

,


a measure of the currency against a basket of rivals was 0.2% higher at 93.42.
Oil futures closed higher, with the U.S. benchmark
CL00,
+1.66%
up 2.5% to settle at $72.23 a barrel. Gold futures
GC00,
-1.66%
rose about 0.03% to settle at $1,778.80 an ounce, but slipped later in electronic trading.
In Asia, Hong Kong was closed for a holiday, but reopening after a two-day break, China's CSI 300
000300,
+0.38%
fell 0.7%. The Nikkei 225 index
NIK,
+1.81%
dropped 0.6%.
Markets in Europe rose. The Stoxx Europe 600 index
SXXP,
+0.74%
booked a 1% gain and London's FTSE 100 index
UKX,
+0.37%
gained 1.5%.
—Barbara Kollmeyer contributed reporting
>>> ad: Don't Miss Today's BEST Amazon Deals!
Originally Appeared Here