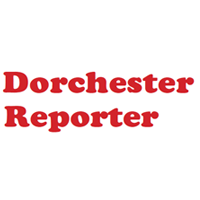 In between feuding with a fellow billionaire and walking back a joke about China, JPMorgan Chase CEO Jamie Dimon recently dropped by Mattapan to celebrate a new bank branch that is doubling as a "community center."
A squat brick building with two columns on either side of the main entrance, 1617 Blue Hill Avenue in Mattapan Square has served as a branch for Santander and Shawmut, which was absorbed by FleetBoston before the latter became part of Bank of America.
Home to Chase since July, the building has a new interior, and its vault has been refashioned into a meeting space. Outside, a new mural that depicts Toussaint L'Ouverture, a general who led the Haitian revolution, graces the back wall of the office.
Speaking with reporters before a celebration of its opening got underway the Tuesday before Thanksgiving, Dimon said the branch will host seminars on mortgages, saving money, opening businesses, and financial education.
On the day of his visit, he was featured on the front page of the Wall Street Journal in a story detailing his fight with Elon Musk, CEO of the electric car company Tesla, over a series of financial transactions. Later in the day, at a Boston College CEO Club luncheon, he quipped that while both the Communist Party in China and JPMorgan are celebrating their respective 100th years in operation, "I'll make a bet we last longer." He later said he regretted the remark.
In Mattapan, Dimon, who has long been called "America's most powerful banker," stuck to local matters.
"Almost all the folks who work here are from the community," he said, referring to the branch's dozen or so employees. He added: "Think of Black loan officers in these neighborhoods helping make mortgages here."
Similar Chase community centers have opened in Washington, D.C., New York, Chicago, Detroit, and Los Angeles.
Dimon said Chase may open 100 more, and some of those could be in Boston. "We have to figure out the neighborhoods," he said.
In Greater Boston overall, Chase has a few dozen branches so far, on its way to 50 and a bigger toehold in the market. Dimon said he's happy with the pace of the expansion. "Once we accomplish that, we'll look at it again," he said. "When I come to town, I expect if you are running the area, I want you to tell me what you want to do. Where's the competition? Where do you go? What's growing? What's not growing?"
Locally, Chase is partnering with Year Up, a nonprofit focused on workforce development. Dimon said they're helping create a pipeline of employees who make between $45,000 and $75,000 a year.
Dimon sounded a dismissive note on making community college free, a proposal supported by President Joe Biden. "College is becoming less relevant" while skills are becoming more relevant, according to Dimon, who acknowledged that people who attend college tend to be more successful. "I don't think it's because they're going to college. I think it's because of all the other benefits they have in life."
Dimon also spoke to a small audience that was in the building for the celebration of the branch opening. They included Chase employees, New England Council CEO Jim Brett, Mayor Michelle Wu's incoming economic chief, Segun Idowu, and local lawmakers, including state Reps. Brandy Fluker Oakley and Russell Holmes.
Dimon told them that the Covid-19 pandemic and the murder of George Floyd in Minneapolish "taught us something that we actually already knew" – recessions hit the poorest hard, and the United States is nowhere close to racial parity. 
"Now, I think this is the greatest country the world has ever seen," Dimon said. "I hate it when people denigrate it. I'm not 'woke,' and I'm not of the left. Okay? I think that this system is the best in the world… That doesn't mean we can't acknowledge its flaws. So I think we can … and start fixing them. And we should be proud of that."
US business leaders have a $30 billion effort underway, including $8 billion in mortgages for Black and Latinx populations, in addition to small business loans.
Zeroing in on Mattapan, Dimon said a national company like his typically has national vendors. But for the Mattapan branch, they are using local art and local vendors. "This gives them a chance to earn your business," he said.
He also said he hopes that people will bring their children to the bank to open a savings account, similar to how his father, the son of Greek immigrants who never finished high school, brought him to a bank to open his first.
Holmes, the state representative whose district includes Mattapan, recalled when the Chase branch used to be a Shawmut Bank branch, and he worked across the street at what was then a Brigham's ice cream shop. When he got his first paycheck, he cashed it there.
"To have it now be a center that is focused not just on banking but also about making sure it's more connected to the community…it sends a whole different message," Holmes said.
Those who don't have bank accounts, or go to check-cashing shops, should be the focus of the new branch and community center, he added. That corner of Blue Hill Avenue is an anchor, too, and for Holmes, it was his "gateway to the world" when he was growing up.
"This location physically is important because this is where also all the buses get dropped off," he said, noting that the bus stop is right outside the bank. "When you're coming back to Mattapan, you get dropped off right in front of Chase."
>>> ad: Don't Miss Today's BEST Amazon Deals!
Originally Appeared Here