11.42am EST11:42
The scholars who penned the open letter specifically called on the Senate to pass the Freedom to Vote Act, which would require many states to overhaul their election rules to expand access.
It would require 15 days of early voting, implement automatic and same-day registration and allow anyone to cast a mail-in ballot if they want to. It would also limit the kind of extreme partisan gerrymandering lawmakers are deploying across the country as they redraw electoral maps right now.
The measure is one of two major pieces of voting rights legislation stalled in the senate. The second is the John Lewis Voting Rights Advancement Act, which would restore a key provision of the Voting Rights Act that require places with a history of voting discrimination to get election changes approved by the federal government before they go into effect.
Senate Majority Leader Chuck Schumer has pledged to find a way to pass those bills and tasked certain senators with figuring out a path forward.
But there is growing unease about whether Democrats will be able to do something before the end of the year. Senator Kyrsten Sinema, a Democrat who is one of the staunchest defenders of the filibuster, said she still favors the rule in an interview with the Washington Post over the weekend.
"Defenders of democracy in America still have a slim window of opportunity to act. But time is ticking away, and midnight is approaching," the scholars wrote.
11.29am EST11:29
Scholars urge Senate to eliminate filibuster, citing 'critical risk' to democracy
America's democracy will be at "critical risk" if the US Senate fails to pass sweeping voting rights legislation, more than 150 scholars of American democratic systems said in an open letter published Sunday.
The academics called on the US Senate to get rid of the filibuster, the rule that requires 60 votes to advance most legislation through the upper chamber.
Republicans have used the rule to block voting rights legislation from advancing on four separate occasions this year. Preserving the filibuster, they said, would be a "blunder that future historians will forever puzzle over." The letter was first reported by Axios.
"Not only could this failure undermine the minimum condition for electoral democracy—free and fair elections—but it would in turn likely result in an extended period of minority rule, which a majority of the country would reject as undemocratic and illegitimate," the scholars wrote.
"This would have grave consequences not only for our democracy, but for political order, economic prosperity, and the national security of the United States as well."
11.13am EST11:13
At least two Senate Democrats — Jeff Merkley of Oregon and Sheldon Whitehouse of Rhode Island — have already indicated they will vote against the renomination of Jerome Powell as Federal Reserve board chair.
In a joint statement, the two senators argued Powell had failed to use the tools of the Federal Reserve to address the economic threat posed by the climate crisis.
Senator Jeff Merkley
(@SenJeffMerkley)
We need a focus on climate action in all facets of the federal government, including the Federal Reserve. Jerome Powell has already proven the he won't answer calls for climate action. I will vote no. https://t.co/o1bCD0i4yE
November 22, 2021
"Jerome Powell refuses to recognize climate change as an urgent and systemic economic threat," the two senators said.
"President Biden must appoint a Fed Chair who will ensure the Fed is fulfilling its mandate to safeguard our financial system and shares the Administration's view that fighting climate change is the responsibility of every policymaker. That person is not Jerome Powell."
10.54am EST10:54
Jerome Powell's handling of the economic fallout from the Covid-19 pandemic has won the chair of the Federal Reserve the backing of the White House for a second term running the world's most important central bank.
Despite speculation that he might sack Donald Trump's appointee, Joe Biden cited the "decisive action" taken by Powell during the early stages of the crisis as a reason to reappoint the 68-year-old Republican for another four years.
The White House said Lael Brainard – the only Democrat on the Fed board, whom some had tipped as a possible replacement for Powell – was its choice to become the vice-chair.
The nominations hark back to a tradition of a non-partisan approach to the top job at the Fed that was broken by Trump. Some progressive Democrats had called for Biden to follow the same approach and appoint Brainard in Powell's place.
Both nominations are subject to approval by a Democrat-controlled Congress and come at a time when the Fed is grappling with an annual inflation rate of 6.2% – the highest level in more than three decades.
10.38am EST10:38
Despite the bipartisan support for Jerome Powell's renomination, there will likely be at least one Senate vote against the Federal Reserve board chair.
Progressive senator Elizabeth Warren has criticized Powell's leadership of the board, and she has previously indicated she would not support his renomination if Joe Biden appointed him to serve another term.
"Your record gives me grave concerns," Warren told Powell in September, when he testified before the Senate banking committee.
"Over and over, you have acted to make our banking system less safe, and that makes you a dangerous man to head up the Fed, and it's why I will oppose your renomination."
Warren has not yet commented on Biden's announcement that he will renominate Powell. Stay tuned.
10.21am EST10:21
The Democratic chair and Republican ranking member of the Senate banking committee quickly released statements endorsing Joe Biden's renomination of Jerome Powell as chair of the Federal Reserve board of governors.
"Chair Jerome Powell has led our economy through a historic pandemic, and under his and President Biden's leadership, unemployment has fallen and workers are seeing increased bargaining power," Democratic chair Sherrod Brown said.
"I look forward to working with Powell to stand up to Wall Street and stand up for workers, so that they share in the prosperity they create."
Sherrod Brown
(@SenSherrodBrown)
Fed Chair Powell has led our economy through a historic pandemic. Under his & @POTUS's leadership, unemployment has fallen and workers are gaining power.
They'll continue to steer our recovery in the right direction – toward an economy that empowers workers and their families.
November 22, 2021
Pat Toomey, the Republican ranking member of the committee, acknowledged he has had policy disagreements with Powell but commended his overall leadership of the Fed board.
"When the pandemic hit in 2020, Chairman Powell acted swiftly and took extraordinary and necessary steps to help stabilize financial markets and the economy," Toomey said.
"While I have strongly disagreed with Chairman Powell's decision to continue the Fed's emergency accommodative monetary policy—long after the economic emergency had passed—Chairman Powell's recent comments give me confidence that he recognizes the risks of higher and more persistent inflation and is willing to act accordingly to control it. I look forward to supporting his confirmation."
10.04am EST10:04
Treasury secretary Janet Yellen praised Joe Biden's decision to renominate Jerome Powell as the chair of the Federal Reserve board of governors.
"The steady leadership of Chair Powell and the Federal Reserve helped ensure that America's economy was able to recover from a once-in-a-generation health and economic crisis," Yellen said in a statement.
"Over the past few years, Chair Powell has provided strong leadership at the Federal Reserve to effectively meet and address unexpected economic and financial challenges, and I am pleased our economy will continue to benefit from his stewardship."
Secretary Janet Yellen
(@SecYellen)
The steady leadership of Chair Powell & the Federal Reserve helped ensure our economy was able to recover from a once-in-a-generation health & economic crisis. I'm pleased our economy will continue to benefit from his stewardship, & the expertise & experience of Lael Brainard. pic.twitter.com/IKT5mwIcdO
November 22, 2021
She similarly commended Biden's selection of Dr Lael Brainard to serve as vice-chair of the Fed board, describing her as "a respected economist with years of experience [who] has been instrumental in the nation's recovery".
Yellen concluded, "As Treasury Secretary, I will continue to support a strong and independent Federal Reserve, empowered to pursue its dual mandate of stable prices and maximum employment to benefit American workers and families."
9.47am EST09:47
Biden announces he will renominate Powell as Fed chairman
Joe Biden has just announced he will renominate Jerome Powell to serve another term as chair of the Federal Reserve board of governors.
In a new statement, the White House noted Biden will also nominate Dr Lael Brainard to serve as vice-chair of the Fed board, on which she has served since 2014.
President Biden
(@POTUS)
America needs steady, independent, and effective leadership at the Federal Reserve. That's why I will nominate Jerome Powell for a second term as Chair of the Board of Governors of the Federal Reserve System and Dr. Lael Brainard to serve as Vice Chair of the Board of Governors.
November 22, 2021
"While there's still more to be done, we've made remarkable progress over the last 10 months in getting Americans back to work and getting our economy moving again," Biden said in the statement.
"That success is a testament to the economic agenda I've pursued and to the decisive action that the Federal Reserve has taken under Chair Powell and Dr. Brainard to help steer us through the worst downturn in modern American history and put us on the path to recovery. …
"Fundamentally, if we want to continue to build on the economic success of this year we need stability and independence at the Federal Reserve – and I have full confidence after their trial by fire over the last 20 months that Chair Powell and Dr. Brainard will provide the strong leadership our country needs."
The president still has three seats to fill on the Fed board, including the position of vice-chair for supervision. The White House said Biden plans to announce those appointments "beginning in early December".
9.40am EST09:40
Democrats are worried that inflation could imperil their legislative agenda and their majorities in Congress as crucial midterm elections loom next year.
While Joe Biden and fellow Democrats had previously sought to downplay rising inflation, it has become an unavoidable issue as prices continue to climb.
The labor department has reported that prices increased by 6.2% over the past 12 months, marking the most rapid uptick since 1990. Gasoline prices have increased by 49.6% over the past year, while food prices have risen by 5.3%.
As prices rise, more working Americans are noticing their bills have become more burdensome. According to a poll conducted by the progressive firm Navigator Research this month, 54% of Americans now say the cost of groceries and gas is a "major crisis", marking a 17-point increase since September.
Senator Joe Manchin, one of the key holdouts in Democrats' negotiations over their $1.75tn spending package, has said he is hearing more from constituents who are concerned about their gas and grocery bills.
"By all accounts, the threat posed by record inflation to the American people is not 'transitory' and is instead getting worse," Manchin said in response to the labor department's latest report. "From the grocery store to the gas pump, Americans know the inflation tax is real and DC can no longer ignore the economic pain Americans feel every day."
Manchin has previously expressed concern that Democrats' spending package, known as the Build Back Better Act, could negatively contribute to inflation.
Biden will need Manchin's support to get the spending package through the evenly divided Senate, so the senator's concerns could endanger the president's top legislative priority.
9.40am EST09:40

"Corporate" Democrats in the Senate imperil Joe Biden's Build Back Better Act, a leading House progressive warned – but not just Joe Manchin and Kyrsten Sinema, the targets of most leftwing ire.
Such Democrats, Rashida Tlaib of Michigan said, are influenced by donors who "don't have the best interests of the American people in mind".
At the same time, the New York Times reported that Manchin and Sinema are increasingly receiving money from corporate and conservative donors.
In an interview broadcast on Sunday, Tlaib told Axios she was "fearful" that "corporate Dems" would "guide this agenda. It's gonna be the people that are gonna continue to profit off of human suffering.
"I know that they've been influenced and guided by folks that don't have the best interests of the American people in mind."
Tlaib said she was referring to Manchin and Sinema, "but I think there are some others that … have issues with the prescription drug negotiations there.
"And so I can't say it's just those two. They seem to be leading the fight, but I wouldn't be surprised if folks are hiding behind them."
9.40am EST09:40
Build Back Better advances to the Senate, where potential problems loom
Greeting, live blog readers.
The House passed Democrats' $1.75tn social spending package, know as the Build Back Better Act, on Friday in a vote of 220 to 213.
The legislation now advances to the Senate, where the proposal will face many more hurdles. All 50 Democratic senators must support the bill in order to get it to Joe Biden's desk.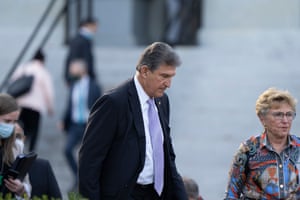 Joe Manchin is seen at the White House. Photograph: REX/Shutterstock
Senate Democrats have already indicated they plan to make changes to the House version of the bill, particularly when it comes to the revenue-raising provisions that will help pay for the package.
And one of the centrist holdouts in the negotiations over the bill, Joe Manchin, has previously indicated concerns about how the proposal may negatively impact inflation.
So the Senate needs to craft a version of the bill that can win the support of all 50 Democratic members, and then congressional leaders from both chambers need to come together to agree on a final version of the legislation.
It's going to be a long month of negotiations. Stay tuned.

>>> ad: Don't Miss Today's BEST Amazon Deals!
Originally Appeared Here