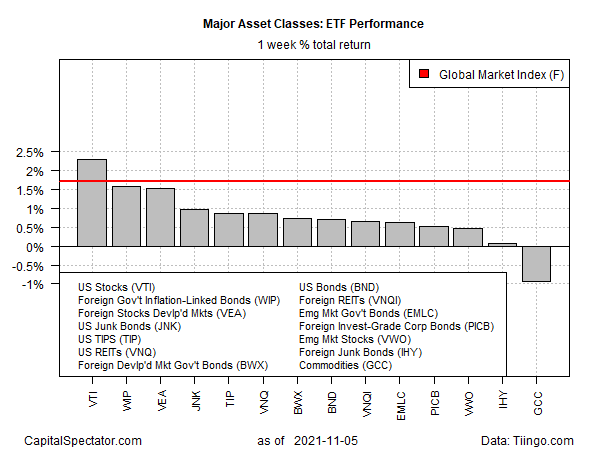 American shares topped rallies for nearly every slice of the for the trading week through Friday, Nov. 5, based on a set of US-listed ETFs. The only loser last week: commodities.
Vanguard Total US Stock Market () rose 2.3%, lifting the ETF to a new record high. The gain marks the fifth straight weekly advance.
"It's a melt-up," says Zhiwei Ren, managing director and portfolio manager at Penn Mutual Asset Management. "It's a very bizarre rally," he added, referring to the rapid rebound following the market's correction in September.
Bizarre or not, the improving outlook for the economy is a factor behind the revival in bullish sentiment. The latest catalyst: Friday's better-than-expected gain in payrolls for October.
"The economy is certainly picking up some momentum," advises David Lebovitz, global market strategist at JP Morgan Asset Management. "We are expecting economic growth to accelerate here into the end of 2021 and the beginning of 2022."
All the main components of the rose last week. The only exception: a broad measure of commodities via WisdomTree Commodity Index (), which fell 1.0%. The loss marks the fund's third straight weekly decline.
The Global Market Index (GMI.F) — an unmanaged benchmark (maintained by CapitalSpectator.com) that holds all the major asset classes (except cash) in market-value weights via ETF proxies — rallied last week, rising a strong 1.7%. GMI.F has risen in each of the past five weeks.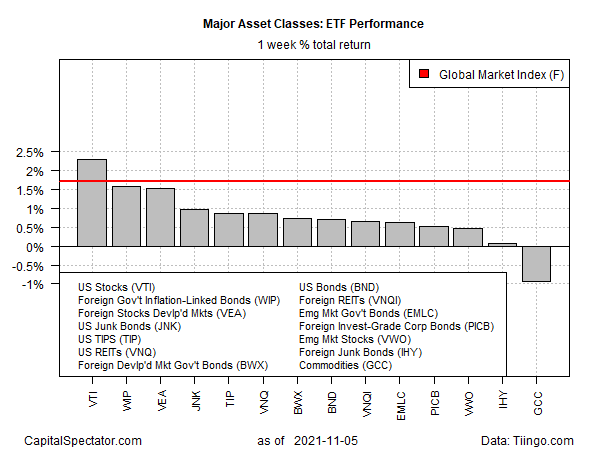 ETF Performance Weekly Total Returns
Monitoring the major asset classes through a one-year lens continues to put US real estate investment trusts in the leadership position. Vanguard US Real Estate Shares () gained 41.6% on a total return basis over the past year through Friday's close.
The biggest one-year setback is still found in foreign government bonds in developed markets. SPDR Bloomberg Barclays International Treasury Bond ETF () has shed 4.7% over the past 12 months.
GMI.F, meanwhile, is up a sizzling 23.4% for the trailing one-year window.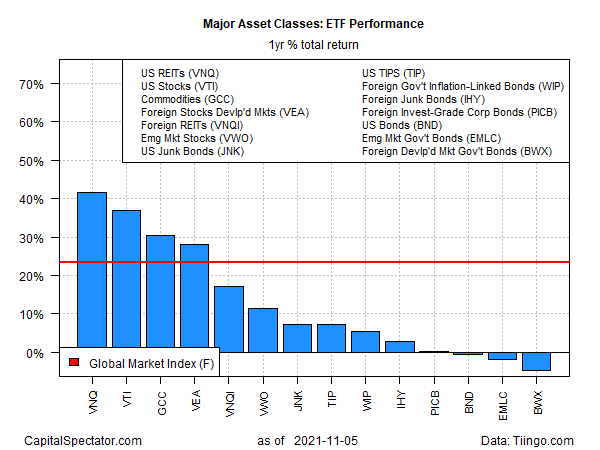 ETF Performance Yearly Total Returns
Most of the major asset classes continue to post low to nil drawdowns as of last week's close. US stocks (VTI) are currently at a record high, which translates to a zero drawdown.
The main outliers for drawdown remain emerging markets government bonds () and commodities (GCC), which continue to suffer the steepest drawdown: -27-plus%.
GMI.F's drawdown at the moment is zero, courtesy of the benchmark's close at a record high on Friday.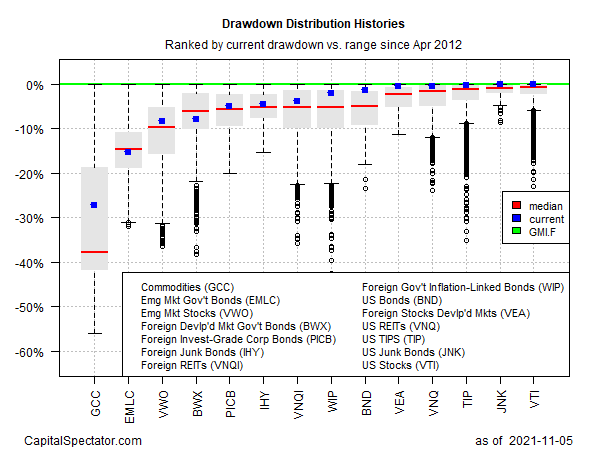 Drawdown Distribution Histories
[ad_2]
Originally Appeared Here