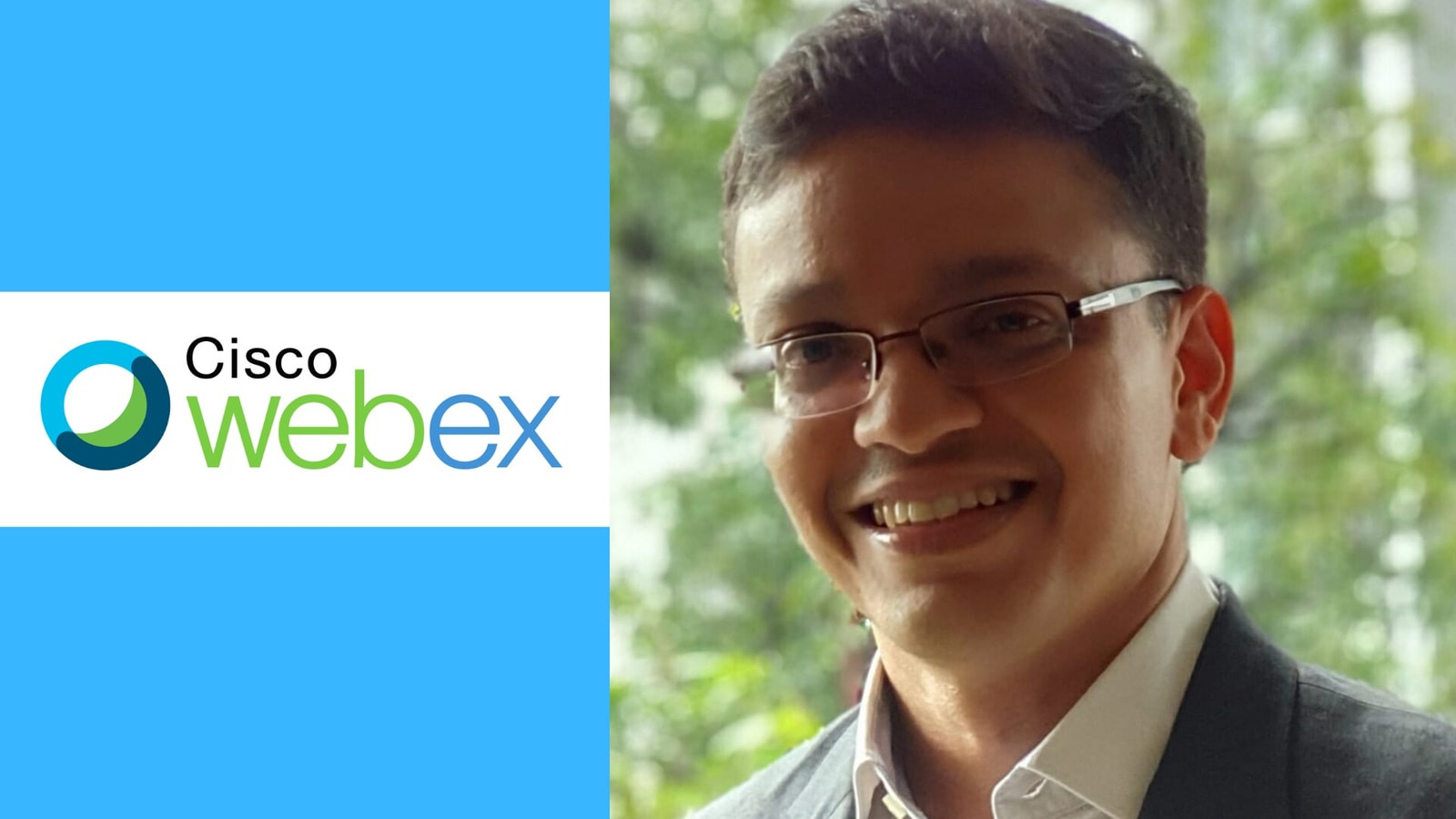 Last year we were taken out of our office spaces and locked up at home while the world struggled through the Covid-19 pandemic. For the tech-savvy and the not-so-tech-savvy, both, the major chunk of our daily work moved online – it became all about adapting or perishing. This is where video calling platforms like Webex, Zoom, Microsoft Teams, Google Meet, etc thrived, helping people keep in touch professionally and personally. 
First came the challenges though, ones that even these big companies had to face – the monumental spike in usage that went up manyfold almost overnight. So, how did they deal? We spoke to Pankaj Agrawal, Director of Collaborations at Cisco about their video calling platform Webex and how they pulled through 2020, and what their plans are for 2021. Here are excerpts from our chat:
Can you tell us how things have been for you since the lockdown started last year? How has the last year been for video solution platforms for online conferences and meetings?
While the pandemic has been pretty tough for all of us, as we've all gone through challenges. From a business perspective, and for Webex, it has been quite good because we have been able to really ensure that people remain productive. So if I were to share specifics, India now has the second-highest usage after the US for Webex globally. On average, we've had over 11 million meetings per month and 80 million participants monthly in India. We've seen a 40% year-on-year increase. So there is a very strong adoption for Webex.
One of the things that we did during the pandemic was to enable an e-commerce platform for consumers to purchase Webex for their use because we saw a huge demand. We have seen very high demand across multiple industry verticals like banking and finance, IT-enabled services for the public sector, manufacturing, education, healthcare, small businesses, etc. So this was one aspect where we saw increased business.
Secondly, as an organisation, Cisco and specifically Webex, we did a lot to support organisations within the country to come out of the pandemic. Be it educational institutes, frontline healthcare workers, government agencies, etc. We have donated a very large number of licenses and personal video conferencing devices to organisations in these three categories.
The moment the pandemic struck, a large number of institutes moved to remote learning using Webex. Eighteen IITs were on Webex just a month after the pandemic. In healthcare, we supported a lot of organisations like the Rajiv Gandhi University for Health Sciences conducted training using Webex remotely to people on Covid-19 support. They trained over 25,000 health workers in just one month. In Gujarat, we had 80 hospitals using Webex to connect and train 400 doctors and paramedics.
We came up with an appliance, a rollable cart called the "ICU Cart," which has a device on a cart, and it uses Webex. It's like a device that is rolling-in to a patient's place, and there is a doctor who's there on video. The doctor can actually work with a patient without having to get into a PPE kit and then get out of it. So these are some of the solutions which we made available.
We have supported governments, government workers and enabled business continuity for over 200 government organisations across 26 state and central government entities and helped them stay connected and collaborate securely. Around 400 police stations in Telangana connected on Webex to manage lockdown protocols. Many police entities and government organisations track mandi prices, and other smaller state and even central government entities used Webex. We have also donated devices from our site to ensure that they were connected. Over 100 high courts are also using Webex to ensure that their hearings happen remotely.
Given that most of the work just shifted online, it was great for platforms like yours to make the most of it. But what were your immediate challenges?
The biggest challenge for us as an organisation was supporting our own employees. We certainly moved from working in offices to working from home. So what is it that needs to be done to enable that? It's not just a conferencing solution. Security is a big aspect of it. And that is something that we have to work upon for ourselves, as well as our customers.
You all were working in a certain capacity and with certain requirements in mind. In the country and globally, overnight, you went into a situation where everything needs to happen online, and solutions need to be shifted online. You mentioned many of these governments, courts, police, and colleges have started using Webex or were used to always use Webex and now have to do it more intensely. So what are the challenges you faced while trying to cater to this sudden spike of demand?
Catering to demand was not a challenge because we had built up a lot of excess capacity, and in the first three or four months, we significantly ramped up that capacity. As the volumes went up, we multiplied the compute capacity, storage capacity, memory, and bandwidth, all of those critical requirements for our data centers that were servicing our customers. So that was one challenge, but we were very proactive in handling that.
We faced other kinds of challenges like we support agents for a lot of customers for banking and financial services and other industry verticals use Webex contact center agents. Suddenly, they had to move to working from home. We worked with the government and quickly supported an order which the government came up with that allowed agents to work from home. Right from enabling the order to working with the government, to then ensuring that they were able to work using a VPN-less security, connect, and all of that.
From a long-term perspective, we are working with customers who talk to us about challenges that their employees are facing in terms of fatigue because of the need to spend 10 – 12 hours on a conferencing system. We have worked on innovating on our devices to ensure that people can have as little fatigue as possible when they're working 8 to 10 hours in remote meetings.
People who have worked online in any capacity earlier, already had solutions, like, Google Meet, Microsoft Teams, Zoom, etc., which spiked over the last year. So what essentially separates or makes Webex different from all of these other solutions in the market?
The vision for Webex really has been to drive inclusivity, and all our investments are targeted towards making the WebEx experience 10X times better than in-person interactions. Because that is what we believe truly drives inclusivity when a remote meeting experience is 10x better than face-to-face meetings, and every participant gets an equal seat at the table. Every offering that we come out with all these feature differentiations that we talked about are shaped by this vision.
I believe there are three main ways in which Cisco stands out. The first is that we are the only player which can offer the combination of software and devices to give an end-to-end, uniform, fantastic remote meeting experience to any user. We not just have the best features available in Webex, whether that is meetings calling, messaging, etc. We also provide devices in various form factors starting from a very entry-level device to the advanced full room setups that we call "Panorama" to ensure that the user has the best possible experience. And headphones, which someone could use while joining meetings from mobile phones.
Second, I would say artificial intelligence is something that is incorporated into almost everything that we do. So over the past few years, we have invested over a billion dollars in building AI capabilities across our portfolio. This includes things like "background noise cancellation," which is an industry differentiator for us to "natural language processing," which enables us to offer "real-time translation and transcription" to other features like "People insights," which allows people to know who are the other people who are part of the meeting, and a lot of analytics that we enable on our platform.
The third one is security. This is a big thing for us. We always play security, the highest, and we never compromise security in the quest to add fancy features. Privacy and security are built into everything that we come out within Webex. We strongly believe that privacy is a basic human right. And organisations, people, and data need to be safe. This, we believe, is the third and critical differentiator for us.
What are your plans for 2021?
We will continue to focus on our vision to drive inclusive experiences for everyone. So there are about 3 billion workers in the world today, and we believe that we can empower all of them. And that is really what our vision is. We believe that if we do that, we can level the playing field for all of them. We can provide opportunities to all of these people because we believe that opportunities are unevenly distributed throughout the world, but the human potential is not. Everyone has potential. So we need to give every human the potential to grab that opportunity that is available.
And Webex, with about 600 million monthly participants, is one of the few platforms which has a global scale to really be able to drive this. The other important change that we believe has happened and we would want to continue to focus our innovation around is that workplaces have now become hybrid. What that means is a certain number of people will continue to work from home almost forever. We've seen announcements from so many large companies talking about them taking a policy decision to do that. We have done market surveys, which have also yielded data like this.
For example, according to our recent global survey, 58% of respondents expect to be working from home at least 8 days a month, even after the pandemic is over. 98% of future meetings, which means almost every future meeting, are expected to include at least one remote participant. So the future of work is going to be hybrid. And the tools that people need are going to be such that they enable productivity in a hybrid environment. We are going to continue to innovate to come up with features, products, etc., which enable these two things – 1) inclusive experiences and 2) supporting hybrid workplace.
We have introduced features and these are related to two large acquisitions that we announced recently, an organization called "Slido" and another organisation called "IMImobile". These products will be totally integrated within the Webex suite and be available very soon. Slido is a product that enables a person in a remote meeting to introduce a huge amount of engagement with the audience. It's an audience interaction platform. IMImobile is something that gives us very strong omnichannel capabilities and gives us the ability to make the agent who's servicing a customer really intelligent by giving them access to the complete history of interactions that the customer has had with that organisation.
As you've seen in India for the last one year what do you think are the challenges here as compared to the other countries when it comes to working from home?
The top challenges that we hear from our customers are related to bandwidth and primarily related to security. A lot of our customers have realised that they cannot ignore security just because a person is working from home. A person working from home today needs access to all of the same material that the person would need from the office because now it is not about going to the office for a couple of days. They have to do everything from home, and then security becomes extremely important.
We are working with our customers not just integrating security natively within Webex but also offering that as a complete solution. Cisco is not a point solutions company, but we are an end-to-end solution provider. We are one of the largest security solution providers across the world and we use that leadership to ensure that we are able to work with a customer to offer them an end-to-end solution to address this important challenge that customers are facing these days.