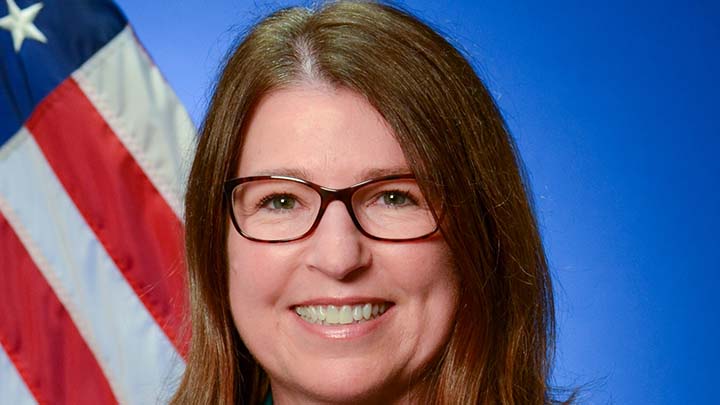 2021 Alumni of Achievement winner for UAH College of Science, Dr. Shery Welsh.
Courtesy AFOSR
Alumna Dr. Shery Welsh (Ph.D., Materials Science, 2014) has been selected as the 2021 Alumni of Achievement award winner for the College of Science at The University of Alabama in Huntsville (UAH), a part of The University of Alabama System.
Dr. Welsh is the Director, Air Force Office of Scientific Research (AFOSR), part of the Air Force Research Laboratory, where she heads the Department of the Air Force's global basic research. The alumna manages a staff of 200 scientists, engineers and administrators in Arlington, Virginia, as well as international offices in London, UK, Tokyo, Japan, Santiago, Chile, Melbourne, Australia, and soon, Sao Palo, Brazil. She oversees a basic research investment portfolio of nearly $500 million a year to facilitate the transition of resulting discoveries to other components of the Department of the Air Force's Air Force Research Laboratory, defense industries and other Defense Department components.
"We scour the globe and do an exceptional job in finding that high-risk, high-reward research and the genius Principal Investigators at universities across the globe and small businesses within the United States," Dr. Welsh explains. "We ideate and create in a universe where no idea is too crazy for us to consider. That universe contains high-risk, high-reward research and is where we get the biggest bang for our warfighters."
The AFOSR's annual investment in basic research is distributed among approximately 300 academic institutions worldwide, as well as 100 industry-based contracts and more than 250 internal AFRL research efforts. These efforts work to uncover leading-edge technologies to benefit defense projects and missions.
"We call those investments 'discovery' because the science grows where it needs to grow, and that produces groundbreaking discoveries like healing wounds five times faster in the field, understanding the phenomena of a paint so white that it could one day cool a building or learning from the biological makeup of diabolical ironclad beetles and mantis shrimp to create materials that can withstand incredible operational environments (forces, temperature, etc.)," Dr. Welsh notes. "All this and more not only provides capabilities to our warfighters, but to the general global public as well."
The UAH alumna has amassed 35 years of experience from the DoD as a federal employee for the Department of the Air Force and the Missile Defense Agency (MDA). In her previous role, she served as the Director, Science & Technology, for the MDA where she sought cutting-edge technology from across the world within industry, DoD, and the National Laboratories to advance state-of-the-art technologies.
"We certainly respond to Air Force and Space Force demand signals, but a perspective called 'science push' is the true magic that AFOSR is able to cast for the Department," Dr. Welsh says. "Science push empowers my scientists and engineers (S&Es) to predict and invest in areas that the Department of the Air Force doesn't even know it will need in the future."
Other assignments she has performed in the Missile Defense Agency include Chief Engineer for the Airborne Laser Program, Director of Target and Countermeasure Requirements, Chief Scientist for the Interceptor Knowledge Center and Chief Engineer for the Advanced Technology Program Office. Dr. Welsh's 20 years working for the Air Force afforded her the opportunity to work many vital programs, such as the C-130U Gunship, C-17, Joint Strike Fighter, F-16, B-2, F-22, Airborne Laser and the Wide-body Aerial Sensor Platform.
"I haven't been in the S&T world very long before arriving in this position, but my last position at the Missile Defense Agency as the S&T Director and my doctoral research at the University of Alabama and University of Alabama in Huntsville are definitely the keys to my success," she notes. "Those experiences were very impactful to my life in general, and I will always be grateful."
Dr. Welsh has been ensconced in her current position for a little over a year and a half, and it hasn't taken long for her to feel comfortable in her new role, as she works to serve strategic needs that reach even into outer space.
"We have settled into our new home and love the area," she says. "Virginia is beautiful! And I love working in the city of Arlington. It's been an interesting year, but the job is everything that I had hoped it would be and more. The mission of my organization is to discover, shape and champion basic research that profoundly impacts the future Air Force and Space Force. We do this on a global scale with five strategically placed international locations. Our goal is to provide complex battlefields that create a strategic advantage for our future warfighters and technological surprise for our adversaries. As China continues to increase its investment in S&T, we've had to find more creative ways to work with less to maintain our advantage. My scientists and engineers, as well as my administrators, are rock stars in unleashing science against our adversaries!"
Working under the conditions of the pandemic has proved a challenge, but hasn't slowed her drive to meet the vital responsibilities of her position.
"I've put off a lot of travel due to COVID-19 in an effort to keep our folks and others safe," Dr. Welsh says. "I spend half my day in high level meetings that are focused on initiatives and programs to increase our influence and impact, as well as discussions on internal and external issues. These range from the organizational level all the way up to the Office of Science and Technology Policy (OSTP) level in the Biden administration.
"The rest of my day is spent on strategic thinking and having regular tag-ups with key folks across the Department of Defense (DoD) to include other agencies such as the Defense Advanced Research Projects Agency (DARPA). I have regular tag-ups with my Service counterparts in the Army and Navy, as well as non-DoD organizations like NASA and the National Science Foundation. It's all about collaborations and partnerships. That's where the U.S. and our global partners excel. The S&T ecosystem we have built extends worldwide and we continue to increase our global footprint."
Dr. Welsh and her staff have devised a number of tactics to creatively work around the constraints of COVID-19 on a daily basis.
"If you've ever listened or read Simon Sinek [British-American author and inspirational speaker], he talks about all the little things you lose when you're not physically together as a team. And it's certainly true. However, our IT has been amazing, so connecting via various online platforms has been a lifesaver. I have had a chance to see my folks via these platforms and get to know them. I did institute quite a few venues so that my folks have direct access to me since we are only in the office part-time at best. I'm a huge Marvel and Star Trek fan, so we hold monthly MARVELous Open Mic sessions, Discovery Discussions, Branch Breaks, Anonymous Digital Feedback Box, AFMC Connect sessions to have honest and open conversations with our team members about how they're feeling and what they're doing to combat the issues that come with a pandemic."
As to where she sees herself in the future, she feels she has already arrived at the destination she has been aiming for all along.
"I'm exactly where I'm supposed to be! I've loved every job I have ever had over my 35 plus years, and they all have led me to this place and this organization, and I've never been happier. This organization is amazing, so for the first time in my life, I'm not looking beyond this job. My husband is truly my rock. He gave up his career years ago to follow me around the country, so you don't get a better cheerleader than that."
Dr. Welsh has earned two Rising Star Awards from the MDA and Engineer of the Year from the Air Force.
>>> ad: Don't Miss Today's BEST Amazon Deals!
Originally Appeared Here